Turn any of your favorite beverages into a slushy in just one minute - yes, just like magic! The Magic Slushy Maker will make your drinks even more refreshing and enjoyable.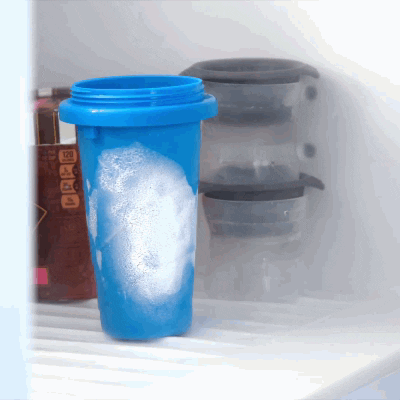 The magic is of this cup's quick freezing technology allows you to easily create your own slush right at your home. Just freeze, fill and squeeze - and you're done! In 60 seconds or less, your drink will become delicious and muddy.
Reusable, food-grade, and non-toxic, this cup also has a removable dome cover and a convenient spoon straw to help you enjoy that slushie texture longer.
FEATURES:
Quick freeze technology- the soft silicone cup allows you to transfer cold air directly into the beverage - making it easy to transform any of your favorite drinks (such as cola and juice) into refreshing slush in just a few seconds! 
Easy to use - Just store it in the refrigerator before use, fill it with your favorite drink, and squeeze for an instant slush! The removable dome cover helps prevent spills and the removable spoon will let you enjoy the slushie even more!
Undiluted delicacy- most homemade slush uses a mixture of ice and juice to achieve a semi-frozen consistency, which can lead to a dilution of the original flavor. The Magic Slushy Maker does not require ice but uses the freezer lining as its cold source. The result is a pure, unsaturated version of your favorite beverage!
Customize your slush - customize your own cold drink according to your mood! This cup works with almost any beverage - sparkling water, frozen cappuccino iced tea, etc. you name it!
Reusable - get ready for an unlimited slushie fun! Reusable and dishwasher-safe, you can create your own slush anytime you want! 
Safe and non-toxic - all parts are non-toxic, food-grade, and BPA-free, so the only thing you need to worry about is the terrible brain freeze.